Television Advertising is the brand builder.
There is no quicker way to get your Advertising seen and to build a brand.
Television advertising is the second highest medium used on this platform after Radio advertising but TV has the highest in value.
We're experts in TV planning so please if you're considering it, ask us now. And we've Clients who advertised on TV for the first time in 2022/23 and happy to introduce them to you.
Why? Because they'll explain how it transformed their businesses.
There are no 'Rates' as such because you buy audiences, not spots or Ratings.
But always, always, note the Advance Booking (AB) Deadlines shown below. So with TV you buy a target audience group and then achieve a level of coverage and frequency for that group. In other words, how many will see the commercial (coverage) and how often (frequency) during the burst.
If you book early, there are HUGE benefits in cost and availability – normally and generally, 6/8 weeks out before airing.
Ask us now on 085 7100458 and we can guide you through TV. It's the medium we worked with most in 2022.
Or enquire about TV Advertising by clicking here! https://app.admatic.ie/catalog/television
A typical current Campaign for 100k (400 Ratings) shown below.
You'll typically have station splits (using various stations), ratings, coverage (1+ 60% means 60% of the target audience which in this case is housekeepers with kids, will see the ad) and 3+ 39% means 39% will see it 3 times or more.
An average OTS (opportunities to see) of 6.25 times is the average number of viewings. How many spots? Probably 3,000+ over 4 weeks.
20 second copy Station Splits example: 20% RTE, 35% Virgin, 25% SKY, 15% C4, 5% TG4 Total = 100%
Timings TV+BVOD:
400 ratings @ €114k *includes 10% bonus TVRs
Cover: 350 TVRs HW+CH, 1+ 60%, 3+ 39%, OTS= 6.25
Official TAM figures show that Television, occupied much of our leisure time, with the average person watched 2 hours 40 mins of TV every day.
The Christmas Late Late Toy Show was the most watched programme on TV. 1.7m+ and about 88% of all Irish households with kids (and if you have kids, you'll know that!)
The Rugby World Cup Viewing figures shows the power of Television…..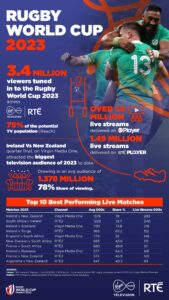 ACTUAL COST PER 100 RATINGS 2023 (30-SECS)
JAN FEB MAR APR MAY JUN
Housekeepers 21890 23702 24012 29135 33258 33258
HKs With Kids 43347 45002 51049 66967 73387 70921
Adults 31013 33700 34222 40604 48367 46314
Adults 15-34 87232 94357 93743 116305 122870 116564
Adults 25-44 59150 62298 65069 81658 94131 85513
Adults ABC1 44371 47786 51049 59358 69265 68373
Men 37661 40148 37788 47208 58697 48751
Men 15-34 87274 105170 110510 141520 136164 118609
Men ABC1 53504 55637 60317 68181 79976 82100
Women 26531 29234 31400 35848 41426 44225
Women 25-44 56703 60092 59570 79974 88140 86955
Women ABC1 38209 42176 44598 52896 61498 59050
Children 19303 23201 26031 32419 33879 36554
Costs based on 2023 Universes (December 2022)
You'll see the latest Top 10 Programmes and Market Shares from this link but….The most recently published Reach and Station Share figures are always available here https://www.tamireland.ie/downloads/reach-and-share/