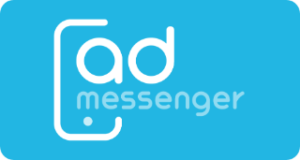 We're delighted to be able to offer our Advertisers a new Advertising option on mobile. Ad Messenger delivers Ads across a whitelist of online publishers ensuring brand safety. It's a scrolling ad format that delivers your message in a scrolling 'breaking news' style at the foot of mobile pages.
See a demo here; https://admatic.myadmessenger.com/demotool/#/Qy8L8z
It's easy and quick to deploy your Advertising and with a relatively low cpm rate of 10 euro but with a minimum order of 750 euro – delivering 75,000 impressions which should deliver 600+ clicks. Low cost….All that is required is up to 160 characters of copy and a 120×50 image/logo and we'll produce a demo for you if you're interested.
National, or within specific geo areas, delivering a far better response than normal formats – 5 times + and of course, a general brand awareness uplift. Excellent option and you can book it throughout the platform like here https://app.admatic.ie/catalog/digital/a769629f-7a15-48e3-aa11-2829e839f823